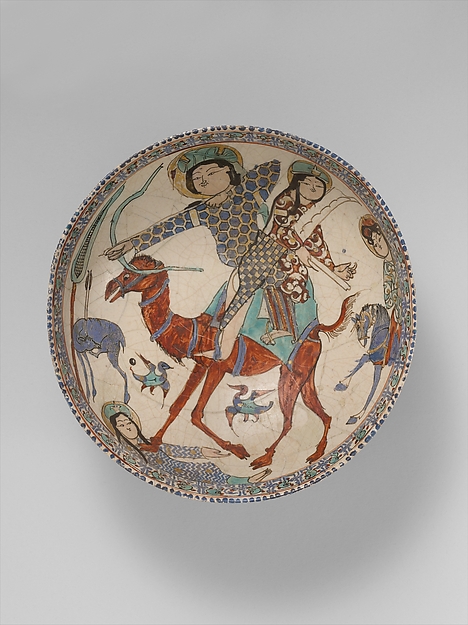 Unknown, Bowl with Bahram Gur and Azada
Iran (likely Kashan according to the MET), 12th-13th century
Stonepaste; glazed (opaque monochrome), in-glaze- and overglaze-painted, gilded
This bowl depicts the same story of Bahram Gur and Azada as the anchor piece. It is known as a monumental piece because the images take up the entire space of the bowl. Bahram Gur extends a bow and his concubine Azada holds a lyre as they both sit on a camel. Bahram Gur wears a design of blue hexagons outlined in gold and Azada wears a design of white leaf motifs with green dots against a brown base. Under the foot of the camel is another image of Azada this time in a garment decorated with chevron. Both images of Azada have her wearing a turquoise turban with a gold medallion and Bahram Gur has a similar turban with two pieces of gold on top. A person on a blue horse, wearing a white, green, and gold foliate design and a red hat are partially depicted in the scene, being cut off by the edge of the bowl. Two bird motifs with a turquoise body and brown appendages are under the camel. A gazelle with an arrow pinning its leg to its ear is in blue near the side of the bowl in the direction of Bahram Gur's bow. Immediately to the left is a cypress tree with a turquoise top and cross-hatching in the center of it. The border of the bowl has a light blue arabesque design with turquoise leaf like motifs in each design repetition. The motifs are outlined in black and each have four red and two gold dots surrounding its' edges. Every person has a gold nimbus behind their head.
This piece has stylistic characteristics of both the Rayy and Kashan style. The figures take up the entire space of the bowl, the geometric garment decorations are of the Kashan style, while the lack of design to fill the open space of the bowl is of the Rayy style. The bird motifs suggest it is the Rayys style, while the moon-shaped faces with halos are of the Kashan style. The similarities in the positions of the figures is extremely similar to the Bahram Gur bowl used as the anchor piece.